Stolcad® Webshop is a website for efficient management of sales. Sales reps can log in remotely and work from any place. With Stolcad® Webshop, the manufacturer can comprehensively plan distribution and arrange the work of trade people.
What benefits does Stolcad® Webshop offer?
Designing windows, doors, gates, roller shutters and other related assortment
The possibility to work from anyplace with the use of a computer, tablet or smartphone with access to the Internet
Convenient selection of a valuation method of the designed constructions (material, price list)
Time saved thanks to automatic import of orders from the website to the production software
The manufacturer can coordinate the work of many sales reps from one platform and is able to remotely activate and deactivate users
The website uses SQL language to ensure smooth communication between Stolcad® Webshop and Stolcad® Professional.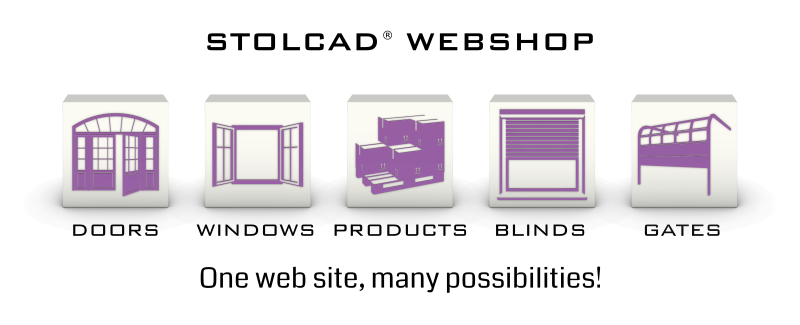 Online management
Stolcad® Webshop gives dealers remote access to their databases with orders and customers from any device − a computer, tablet or smartphone − with the Internet. The users have all their data needed for work at their disposal. A convenient panel for offer management provides an instant preview of offer details, status, price calculation, etc.
New orders can be added or modified at any place and time − for example, being on a construction site, a sales rep (with the use of their phone or tablet) can measure and insert the dimensions of a construction. They can finalize the order from a different device at the point of sale, supplementing it with any additional information. To ensure the consistency of data Stolcad® Webshop only requires access to the Internet on each of these devices.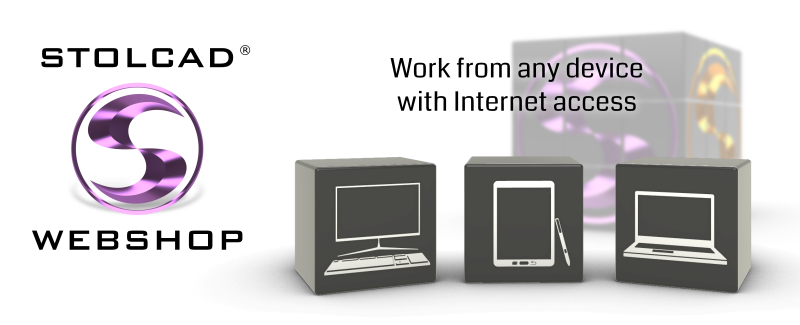 All valuation methods at your disposal
The website works on schemas from Stolcad® Professional, but the valuation method can be either material, or can be based on price lists. A manufacturer can elastically decide how projects created by trade reps will be valued.
Common technological base
Stolcad® Webshop uses the technology base from Stolcad® Professional – in the part selected and made available by the manufacturer. The manufacturer can efficiently select and send all the necessary technological data to his sales reps. The technology can be updated with just one click. Such a functionality eliminates the need for creating unnecessary technology bases or rewriting data manually.
A single technology used both in Stolcad® Professional and Stolcad® Webshop is a win-win for everyone. The sale reps can always be sure that their offers are based on up-to-date data and are consistent with the manufacturer's implementation capabilities. The orders are automatically transferred to Stolcad® Professional. As a result, the productivity of the production process is increased thanks to the time saved as well as consistency and unambiguity of orders.