Проект: Additional features

Stolcad® Professional offers a number of additional features supporting the process of designing. The following practical examples can be applied in all technologies.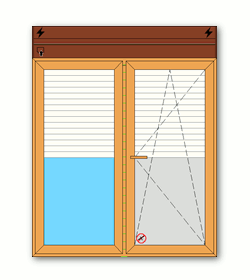 Position 1: Roller shutter integrated with a window
Stolcad® Professional allows you to draw roller shutters directly on window projects. The integrated design of the roller shutter and the window is displayed as one item on the offer printout, however, both constructions are automatically and independently distributed to different production lines.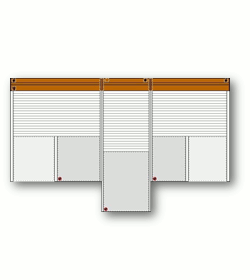 Position 2: Roller shutter as a stand-alone construction
The software allows for designing roller shutters as stand-alone constructions. The user can create any type of roller shutters, as needed.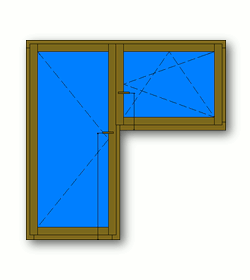 Position 3: Balcony set on one frame
The design incorporates a balcony set on one common frame divided by a bar. The feature of profile extension in Stolcad® Professional allows you to make this kind of design in a very simple way. You simply need to select a frame, turn the corners, highlight the part that should be the base for the bar and extend it until it connects with the frame. This can be achieved with just one click!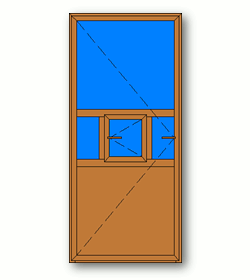 Position 4: Pharmacy door − sash in the sash
Stolcad® Professional allows you to create projects composed of several layers of sashes. This solution is commonly used e.g. with doors assembled in pharmacies, canteens, ticket offices, etc. The illustration shows a pharmacy door with a sash-in-sash construction.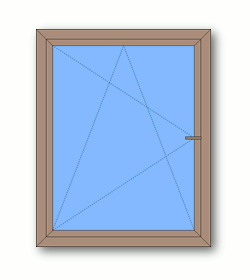 Position 5: English window
Stolcad® Professional offers designing and comprehensively produces different types of windows. The example project presents a typical English window, whose sashes are opened to the outside.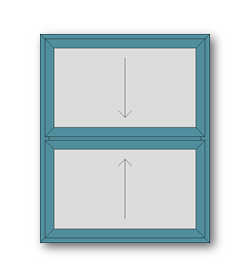 Position 6: Scandinavian window
Scandinavian windows are characterised by their regional style of opening that has vertically moving sashes. Such a unique design allows for easy maintenance.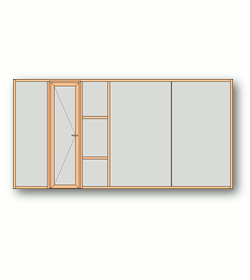 Position 7: Partition walls
The software allows for designing partition walls with the use of a specially adapted technological base. With Stolcad® Professional one can valuate partition walls, list the used materials and calculate e.g. double glazed windows of equal dimensions.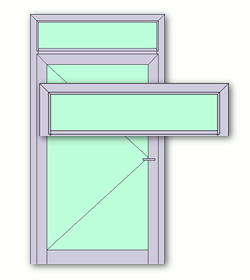 Position 8: Modifier
Stolcad® Professional facilitates insertion of modifiers to aluminium constructions. The modifiers allow for changing the direction of opening of the sashes. With these features, it is easy to design doors with fanlights. In addition, the software allows you to define corner profile connections using one of three methods: crimping, twisting or pinching.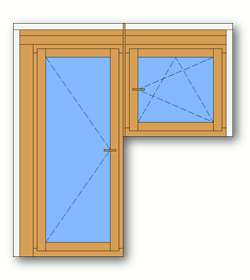 Position 9: Widenings and connectors
The software allows to add any number of widenings and connectors of different colours to the window and door constructions. This feature helps to generate additional savings when the user selects widenings at the walls with the cheapest colour, usually white. After each modification, the dimensions of the drawing are automatically adjusted depending on width of the used widenings or connectors.